Crystal Wright is a recurring character on Glee: The Unitards, who debuted in the twelfth episode to the first season, The Bright Lights. Crystal was born and raised in Lima, Ohio, but moved to Defiance to attend an all-girls school, St. Mary's Catholic College. She is the lead performer and captain of the school's glee club, The Musical Melodies. She led her team to a 2012 Sectionals victory, however she placed second in her 2012 Regionals, losing to The Shining Showstoppers, but beating The Unitards. Crystal has a large crush on Jackson Holt, and shared one kiss with him, despite showing previous distaste for him and his glee club. 
Jordan has confirmed her re-appearances in the show's renewed second season.
Crystal is portrayed by singer and actress, Ariana Grande, and was created by Gleekfan101, the show's creator and writer.
Biography
Edit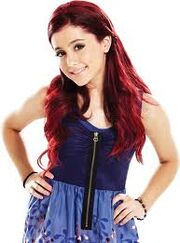 The Unitards
are at one of
The Musical Melodies
concerts. She introduces herself and then sings in front of the crowd to "Spotlight" by Selena Gomez. Later, she meets with
Harmony Harpse
, and performs a duet of "I Don't Wanna Wait" by The Veronicas, leaving Harmony to envy her, as she believes she is a better singer than her and is prettier than her.
Solos (In A Group Number)
Edit
Coincidentally, the actor who portrays Crystal, Ariana Grande, originates from Nickelodeon shows, whilst David Henrie, who portrays Jackson Holt, the lead of a rival glee club of Crystal's, originates from Disney shows. Ironically, Disney and Nickelodeon are rival channels/companies, and Jackson and Crystal are rival glee club leads.
Ad blocker interference detected!
Wikia is a free-to-use site that makes money from advertising. We have a modified experience for viewers using ad blockers

Wikia is not accessible if you've made further modifications. Remove the custom ad blocker rule(s) and the page will load as expected.